Psychotherapy for Adults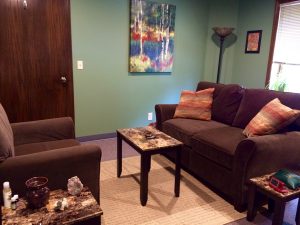 I take an integrative approach and utilize empirically-based practices to assist individuals in identifying and addressing problematic behavioral, cognitive, affective, physiological, or spiritual dimensions in their lives. I will draw from cognitive-behavioral therapy, mindfulness techniques, the adaptive information processing model, acceptance and commitment therapy, motivational interviewing and psychoeducation to help move you in the direction you want to go. That said, only you know what is or is not working and I rely on your feedback for the best outcome. Therapy is a collaborative process.
EMDR Therapy
EMDR (Eye Movement Desensitization and Reprocessing) is available as a treatment option for post-traumatic stress and moving past difficult life experiences in general. The human stress response is adaptive and largely physiological. Problems begin to occur when the stress response is activated repeatedly, even during times of non-threat. In working with stress and trauma the key is to regulate the nervous system first. Using a tri-phasic model, we will work together to get you regulated, process through your difficult life experience(s), and get you pointed in the direction of recovery and healing.
Substance Abuse Evaluations & Treatment of Addiction
For the evaluation of substance use disorders I utilize the Addiction Severity Index (ASI), which is a semi-structured interview for substance abuse assessment and treatment planning. The ASI is preferred and accepted by the Nebraska criminal justice system. If you are looking to explore your relationship with substances, I can help. If treatment for substance abuse is recommended and court-ordered, I will work with your probation/diversion officer to keep them apprised of your progress while in treatment.
---
Rates & Insurance
Accepted insurance plans include:
Aetna
Blue Cross Blue Shield
Cigna
Coventry/MHNet
Medica
Midland's Choice
UMR
United Healthcare
I also accept self-pay. Cash, check and all major credit cards are accepted.
Please feel free to contact me Monday – Friday from 8am to 6pm to check for availability.
Email and phone messages are welcome. If I am unable to speak with you immediately, I will respond to all messages within 24 hours.